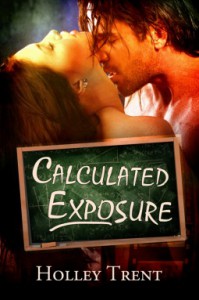 Often when writing a review my style of reviewing tends to go more toward emotion rather than a "book report" review. After finishing Calculated Exposure I am left with a sweet smile curled around my lips and a longing of more. Also gives you a reminder that no matter where you come from you can steer your own path and make changes. This is so not what I expected after reading the first chapter.
I found both Curt and Erica's characters to be endearing and engaging. What began as a flirt evolved into so much more. I think the recipe for its success is due largely to the fact that it is written much more realistically. Real life is busy and complicated. People do have jobs and family issues that can't be instantly solved.
I enjoyed the chase in Calculated Exposure as well. Curt is funny and Erica takes no crap. There was good sizzle and the supporting characters all played well and felt comfortable in the story. No awkward weird friends on the fringe. Solid writing and a great set up for more books if a series is to come.
4 Surprising Stars! What can I say…I really liked it :)
T~
ARC given via Netgalley in exchange for an honest review.
www.ktbookreviews.blogspot.com